Top 5 Casual Watches Under $500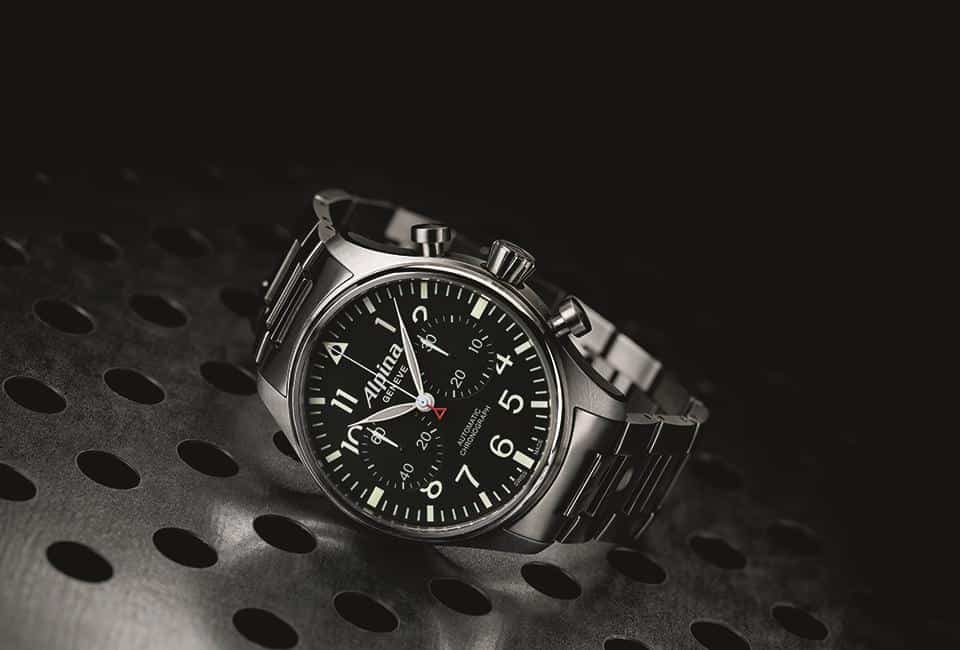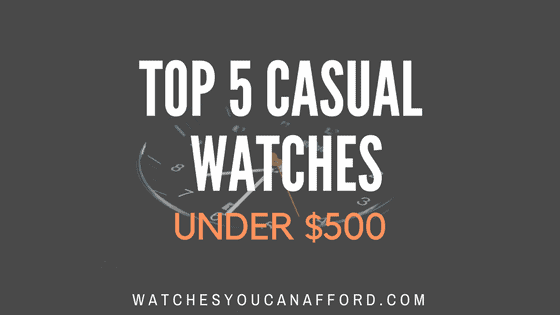 In our effort to feel cool and laid back we've plumbed the watch boutiques and catalogs for simply the best in casual watches that fall under the $500 price mark. And while there were numerous ones to contend for real estate on our list, here are the fab 5 that made the cut.
Alpina Startimer Pilot Watch 
Alpina's $441 pilot watch is a respectable entry into the larger canon of Alpina pilot watches. Following the blueprint set forth in the 30s and 40s, Alpina continues the long tradition of pilot watches that are equally robust and casual. Here they've endeavored to give your wrist 44mm of watch goodness, stainless steel and a black dial. All of those elements come together nicely to fill out the lookbook that is essentially Alpina. It couples nicely with a black leather strap and glare resistant sapphire crystal. Oversized luminous numerals add nuance to the dial. While there are three iterations of the Alpina Startimer, one thing is clear: the ingenuity remains consistent.  
Bulova Precisionist 96B158 
Bulova isn't normally the watch brand you find curated in a list of best under $500. If anything Bulova usually sets up shop in the upper echelons of haute horlogerie. But here we are with a truly dynamic piece of watchmaking that retails for a modest $117. The Bulova Precisionist 96B158 implements its Precisionist quartz movement to mimic the balletic choreography of mechanical watches. Here they undercut the competition by reinventing the wheel and then selling it for less. It vibrates at a frequency of 262kHz, or 8 times greater than your standard watch; and boasts a svelte 42mm diameter. Water resistance is 30m. The minute and hour are both luminous numerals and a black leather strap caps off the style quotient. All in all, very performance driven for the brand, regardless of the price attached to it.
Panzera Breuer Arctic Spirit 
The Panzera Breuer is slim and refined with a large dial and simply understated presentation. A black leather strap marries nicely with the 44mm case. Other variations include the stylish striped Nylon band that nicely offsets the black dial. It retails for $475. Here's another one for the timepieces that utilize the Miyota movement, specifically the Miyota 81A automatic movement. Following that the watch is supercharged with a 40 hour power reserve, 50 meters of water resistance and a penchant for turning heads with everything from its luminous numerals, stainless steel case and 21 jewels.
Citizen Eco Drive 
The Citizen Eco Drive assembles all of the smartest elements in the room to complete a watch that retails for a mere $100. This solar powered phenom is a petite 36mm with a stainless steel case and leather strap. The dial features Arabic markers and a Japanese movement. How does that stack up to performance? Well, respectably. 30m of water resistance. 180 days of gargantuan power reserve. And a singular versatility that allows this watch to populate both our best casual and best dress watch lists for under $500. It's not unusual for Citizen to package precision and performance in an affordable package. But the Eco Drive line is a worthy purchase for the man of all occasions.
Mondaine Evo 
Mondaine is a Swiss brand that skirts the fine line of Swiss made watches and foreign made watches by manufacturing more than 50% of its pieces in Switzerland. For watch aficionados familiar with the distinction of Swiss made watches, a certain percentage of the timepiece must in fact be made in Switzerland in order to be classified as Swiss made. And yet despite the usual high end flexing that goes with Swiss timepieces, there is no pricing out of the market here. The Mondaine Evo is a modestly priced watch at roughly $200. The quartz movement is undeniably Swiss. The stainless steel case couples with a small 36mm diameter. And the white dial complements a black leather band. Simple presentation if nothing else.
Summary
Reviewer
Review Date
Reviewed Item
Top 5 Casual Watches Under $500