Relooking at the Recraft: the Seiko SNKM97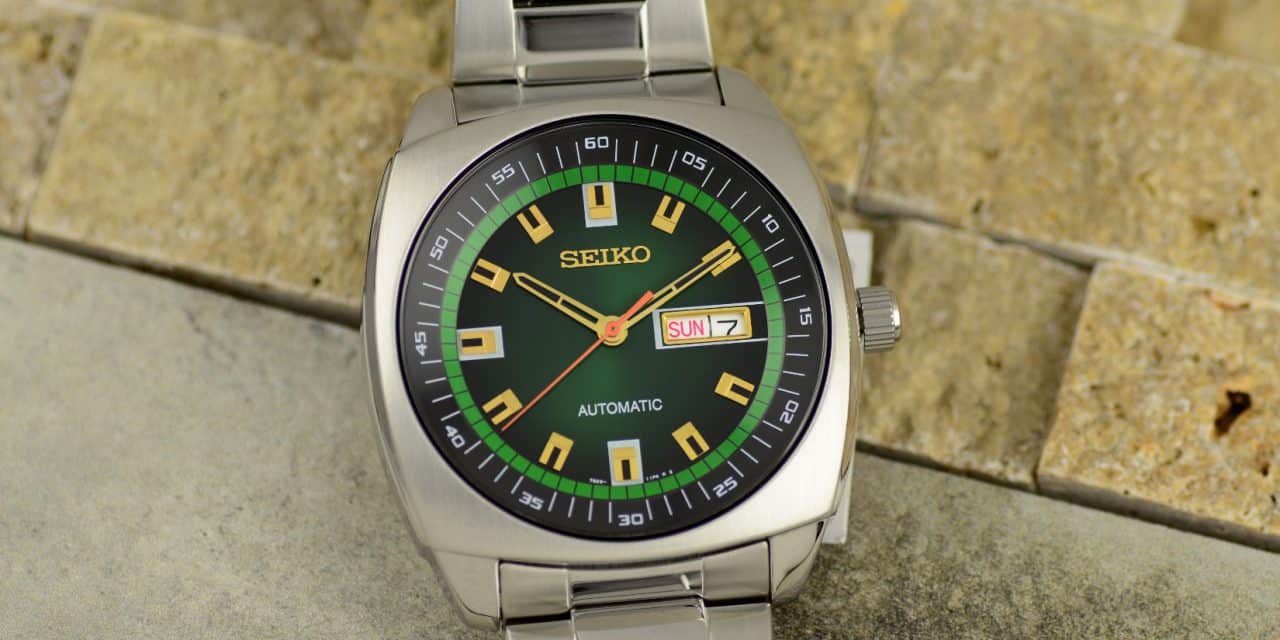 About a Month Ago I Reviewed the Seiko Recraft SNKN01
I gave it high praise because of its good looks and use of the 7S26 automatic movement. Well, after wearing the SNKN01 for a few weeks I decided that I have enough blue watches and wanted something… green. So, I got an SNKM97 and decided to take a bunch of photos.
Let's check the SNKM97 out. If you're interested in a more in-depth review of the Recraft, check out my Seiko Recraft SNKN01 review.
> Click here to see real customer reviews, specs and prices on Amazon <
Seiko Recraft SNKM97 TECHNICAL SPECIFICATIONS
Movement
Automatic, Seiko 7S26
Complications
Day/date display
Power Reserve
Approximately 42 hours
Water Resistance
50m / 165ft
The Recraft Series Are Good Lookers, & the SNKM97 is No Exception
Compared to the SNKN01, the SNKM97 sheds a lot of the youthfulness of the N01 and replaces it with something adventurous. Its green sunburst dial provides the perfect backdrop for the gold hour markers and hands, looking as if it just came off of the Vegas strip. It reminds me a little bit of the Alpinist, which I'm a huge fan of- it looks even better than the sunburst-silver on the SNKN01.
The gold on the dial does such a good job of giving the face character. Too much gold can be hard to wear; Seiko has done a great job of styling the SNKM97 so that the gold really pops without popping a bit too much.
I wish it was slightly smaller, though. 43.5mm is pretty big, and the squarish case exaggerates its dimensions. The 7S26 will fit into small cases (the SNK809 is 37mm). My tiny wrists can barely wear it (only with a long-sleeve, ha), but I rock it anyway. It helps that it wears smaller with a strap in place of the bracelet.
> Click here to see real customer reviews, specs and prices on Amazon <
Pictured Above: The Golden Hands on the SNKM97 Look Fantastic From Every Angle
This version of the Recraft comes with a stainless steel bracelet. It looks better than the leather on the SNKN01, but it also really adds to the heft of the watch. At 43.5mm, the Recraft series of watches are already large; with a stainless bracelet, they're also heavy. It looks really good though, and it's not like it weighs a ton. The bracelet doesn't feel cheap, and the integrated deployment clasp is sturdy.
The movement inside the Recraft is sparsely decorated, save for a broom finish and some engraving. Still, it's clean, polished, and well presented. I got a little close on some of the shots of the gears and rotor. This one is one of my new favorites!
> Click here to see real customer reviews, specs and prices on Amazon <
I Really Enjoy the Recraft Line, & the SNKM97 in Particular
Seiko has a few inexpensive automatics that I'm a big fan of, and the Recraft is one of my favorite line of affordables from any manufacturer. I enjoy their distinct look, which blends 70's style with modern sizing and tastes, and I love that you can buy this watch right now for under $140.
My experience with Seiko watches has so far been excellent. All have been built well – including this one – and I like Seiko's design language. They are tied with Hamilton as my favorite watch brand.