Seiko Flightmaster Pilot SND255P1 Review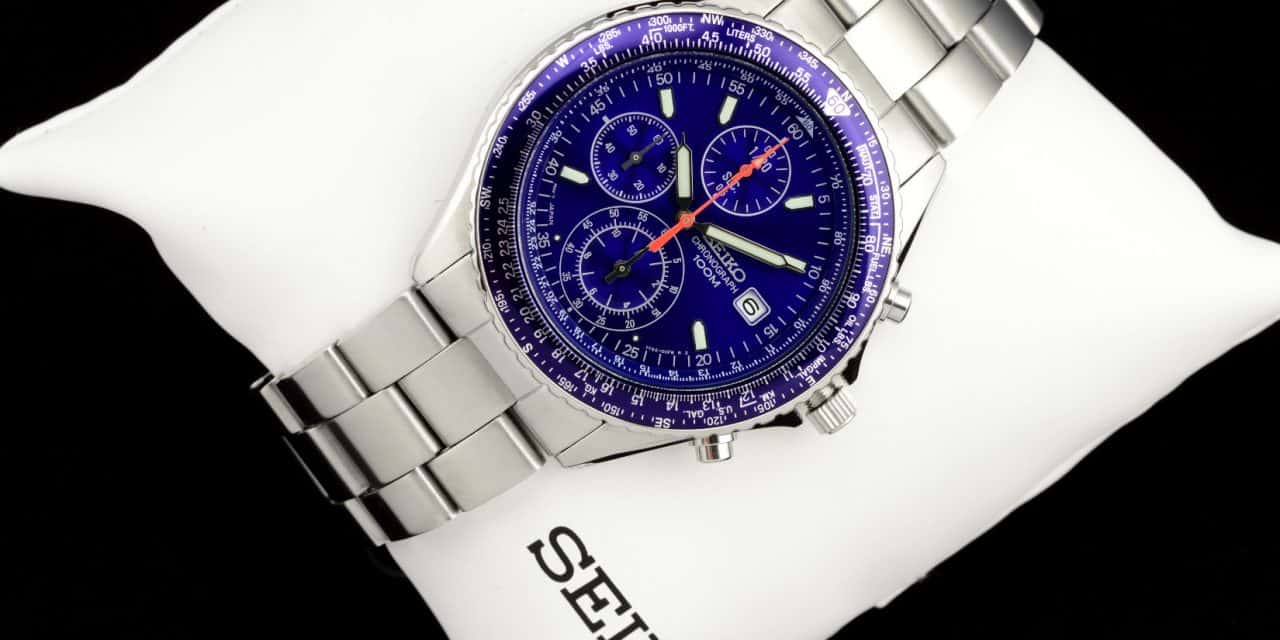 Score 86%
Score 86%
The Seiko Flightmaster is a Popular, Feature-Rich Pilot watch
Sporting ample lume, a 60-minute chronograph (accurate to 1/20 a second), date display, and a rotating slide-rule, the Flightmaster SND255P1 is loaded with functionality.
It certainly looks the part, and sized at 41mm, it's perfectly suited for nearly any man. This version, as loaded as it is, is actually missing some features compared to other versions of the Flightmaster. Most notably, the SND255P1 lacks an alarm.
This version of the Flightmaster is found for around $175 on Amazon, which is a competitive price for a watch of this type from a major brand. Pilots, engineers, and other people looking for a watch that offers genuine functionality and the ability to perform calculations will find the Flightmaster to be an interesting and capable companion.
If you're looking for a watch with real capability and great quality of build, the Flightmaster may be for you. Let's check it out.
> Click here to see real customer reviews, specs and prices on Amazon <
Seiko Flightmaster SND255P1 TECHNICAL SPECIFICATIONS
Movement
Quartz, Seiko Chronograph 7T92
Complications
Chronograph, date display, slide-rule
Battery Life
Approximately 3-5 years
Water Resistance
100m / 300ft
Seiko Flightmaster Style & Design
This is the second Seiko chronograph watch I've gotten my hands on; for a few years I regularly wore a Seiko SSB039 that also has an all-blue color scheme. However, the color is where the similarities end: the SND255P1 is a very different watch aesthetically.
The Flightmaster isn't a watch that most people would look at when shopping for a daily wearer. It looks good for the type of watch it is (more on that in a second), but most people are going to find it busy and hard to navigate. Without question, the Flightmaster has a lot going on. But, for the right kind of person, the Flightmaster is the perfect combination between utility and practicality, offering its wearer more than just timekeeping.
The rotating bezel, which spins smoothly and with precision, is lugged and has a polished rim along the side. The bezel is marked with units of measurement for calculations, conversions, and navigation. It forms a major part of the slide-rule integrated into the Flightmaster, which is interesting and incredibly practical in its own right… for the right person. Seiko markets the Flightmaster to pilots (shocking), engineers, and other technical professionals that find value in a wrist-mounted calculator (that isn't an actual calculator watch).
Mike at 60clicks has a great overview of how the slide-rule works in his review of the Seiko Flightmaster SNA411, which is the bigger and more feature-rich brother of the SND255P1. Alternatively, you can read Seiko's slide-rule handbook.
> Click here to see real customer reviews, specs and prices on Amazon <
The screw-down crown gives the Flightmaster 100m / 300ft of water resistance
Despite its complexity, the Flightmaster is a photogenic watch. The blue dial and bezel plays with light, changing hue based on its angle in relation to the light source. Visibility is excellent, as the raised high-contrast hour markers and hands really stand-out against the dial.
At 41mm it's large enough to be prominent on the wrist without being overbearing. It's comfortable to wear, and its busy style is noticeable but not off-putting. Quite a few people have commented on how complex the dial looks; in reality, once you understand how the slide rule is laid out and how to use it, its complexity makes sense. It is quite legible regardless.
Speaking of legibility, the hands and eight of the hour markers are painted with a generous application of lume. Suffice to say that visibility in the dark is not a problem.
Some have complained about the small size of some of the text. True, it is small, but how else can you expect Seiko to shove a slide-rule into a 41mm case?
> Click here to see real customer reviews, specs and prices on Amazon <
Seiko Flightmaster Build Quality
Like other Seiko's I have reviewed, the Flightmaster is well-made. It looks better put together than its $175 price point would suggest. Under zoom the dial looks nearly flawless: grooved surfaces are precisely defined, printed text is clear and uniform, and the markers are properly aligned.
Crystal, Case, & Dial
Hardlex is used for the dial, which is perfectly appropriate given this Flightmaster's affordable price. Hardlex is quite robust and tends to hold up better than a standard mineral crystal. On the Flightmaster, the crystal is slightly recessed into the bezel- this has the benefit of making the crystal less likely to be hit and scratched.
Overall, the case is well made (as expected). The screw-down crown locks securely closed, and the rotating bezel moves with confidence. It looks and feels very high quality.
Strap & Clasp
The stainless steel bracelet is quite light. If it's anything like the steel bracelet that is on the SSB039, it will wear well despite its lightness. The lightness of the bracelet does contribute to the watch feeling somewhat top heavy, as the case has noticeable weight by comparison.
The deployment clasp is sufficient for the job and is comfortable to wear and operate. It closes with a satisfying click and remains secure. I have no concerns here.
Seiko 7T92 Quartz Chronograph Movement
Overview
The 7T92 chronograph movement is well-known chronograph that is used on quite a few different watches. It is quite average in terms of accuracy, but excellent from a reliability and functionality perspective.
It features a date display at 3 o'clock, with a small-seconds subdial at 9 'oclock. The 1/20 chronograph sits at 12 o'clock, with the minute chronograph at 6 o'clock..,
Testing with toolwatch.io showed that this particular 7T92 accurate to +3 seconds over a 7 day period. This suggests it is +12 seconds per month, which is pretty good and within spec.
Battery Life: 3-5 years
Chronograph: 1/20 seconds measurement, 60-minute timer
Accuracy: +/- 15 seconds (monthly)
Setting the Time & Chronograph Operation
To set the time, pull the crown to its furthest position (position 3). Turn clockwise to set the time. Note that the date display will automatically roll-over at midnight.
To set the date, pull the crown to its middle position (position 2). Turn clockwise to set the date.
To start the chronograph, press the top button. Press this button again to stop the chronograph.
To reset the chronograph, first press the top button and then press the bottom button.
> Click here to see real customer reviews, specs and prices on Amazon <
If You're a Pilot or Engineer, the Flightmaster is Perfect
When a watch is both good looking and practical, it's an easy recommendation. The Flightmaster is both of those things, along with also being well made and priced affordably.
I purchased this one off Amazon for $165, and at that price the Flightmaster SND255P1 is good value. Assuming proper care, you can expect years of trouble-free use from the Flightmaster. Its chronograph is accurate, and the integration of the slide rule really does set it apart from other quartz chronographs.
This is a solid watch all around. Recommended.
Seiko Flightmaster SND255P1 Review Conclusion
86%
My thoughts The Seiko Flightmaster is a genuinely useful watch. The chronograph and date display are standard complications, but the integration of a slide-rule is what gives the Flightmaster its utility. It's made well and looks good (in my opinion). There isn't anything I dislike: the Flightmaster is a good watch overall.