Breytenbach BB7745BE Review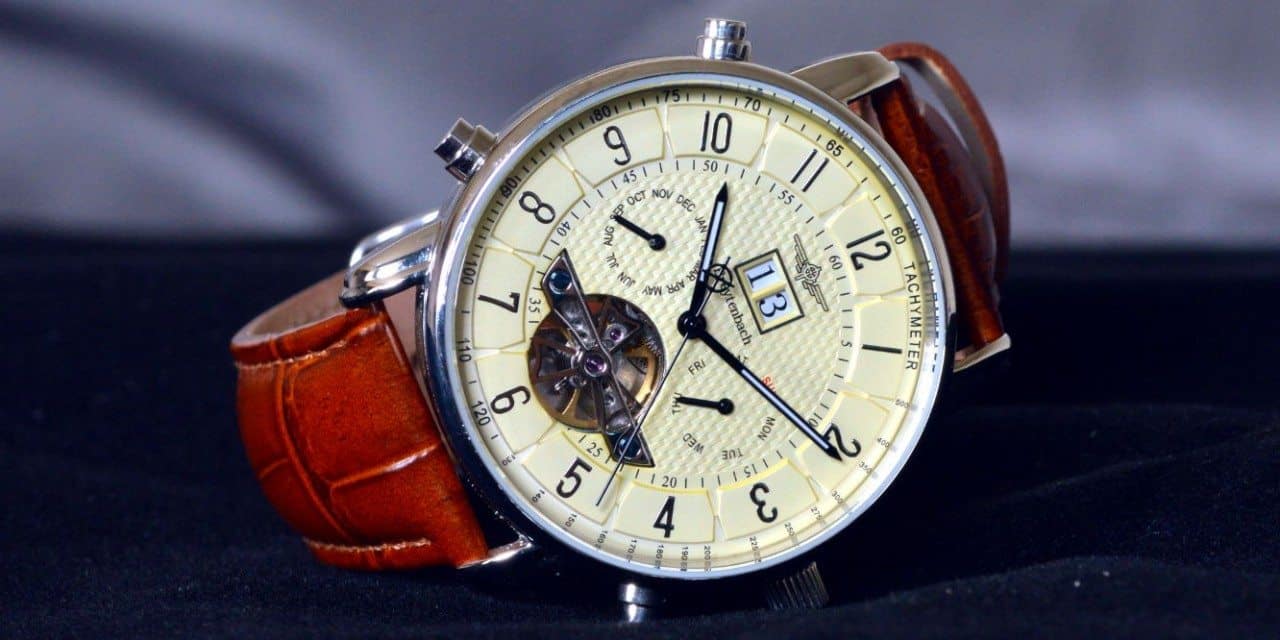 Score 48%
Score 48%
About Breytenbach
Good luck finding any reputable information on Breytenbach watches. In fact, when you Google their name you'll find that this page is the first result (gulp!). Breytenbach appears to fall into the "Germasian" category of watches, where a German name is combined with Chinese-manufactured components. The idea is that the name will make the watch sound more prestigious than it is.
Germasian brands can be very hit or miss. Proceed with caution.
HOW WE REVIEW WATCHES
Our reviews are based on our first-hand experience with the watch. All photos and media are created by us (unless otherwise credited). Learn more about how we review watches.
> Click here to see real customer reviews, specs and prices on Amazon <
Review Summary
This is a case of a watch that looks far more valuable than it is. The Breytenbach BB7745BE isn't necessarily bad- its automatic movement seemed to be fairly accurate (losing only 18 seconds per day), the leather strap is pretty good quality, and the beautifully decorated movement is almost a showpiece. However, don't be confused into thinking this watch is good value. You very much get what you pay for.
Breytenbach BB7745BE Technical Specifications
Movement
Sea-Gul big date multifunction automatic
Complications
Day/date, month, open heart
Power Reserve
Approximately 38 hours
Water Resistance
50m/164ft
How To set the time:
Pull crown to the furthest position (position 2). Turn the crown clockwise to set the time.
How To set the month, day, and date:
To set the month, press the bottom-left button.
To set the day, press the bottom-right button.
To set the date, press the top-left button.
Breytenbach BB7745BE Aesthetics & Design
At first glance, this is a great looking watch. The cream-coloured dial features a visible flywheel that almost looks like a propeller in motion. It's paired with a brown crocodile-grain leather strap and a polished stainless steel case. The overall package is a little retro and quite impressive. More than one person commented on the watch while I wore it.
The dial has subtle texturing that really does enhance its presence. The hour markers sit raised compared to the rest of the face. It contrasts just enough with the textured inner dial to give the outer ring a bit of pop.
Flip the Breytenbach over, however, and you'll get to see the most attractive part of it: the movement. Brightly-coloured screws and jewels are abundant and their relatively flat texture contrasts sharply with the machined rotor and movement pieces. It's absolutely fantastic to look at.
I also couldn't help but note how thick this watch is. It almost looks a little awkward underneath dress shirts… though a really showy watch like this isn't one I'd wear to a formal/semi-formal affair anyway.
> Click here to see real customer reviews, specs and prices on Amazon <
Breytenbach BB7745BE Build Quality
There's a definite feeling of lightness with this watch. It's almost offputting considering the large 44mm case and automatic movement. This feeling of lightness unfortunately doesn't convey a strong sense of quality, although there's more to quality than simply weighing enough.
Crystal, Case, and Dial
The mineral crystal is pretty standard fare. During my review of the watch I managed not to scratch it, though I can't say the same for the polished stainless steel case (which now has many fine scratches and wear marks).
The manufacturing tolerances seem pretty good, though I can't say I'd want to test them. I also don't think I'd want to test the claimed 50m of water resistance either.
Strap and Clasp
The brown leather strap feels great on the wrist. It's thick enough to be soft and supple, but not so thick so as to be difficult to manipulate. I did find it pretty stiff the first few days that I wore it, but it did eventually soften up and become easier to shape.
The clasp hardware does the job, though it is nothing special. It lacks even the most basic decoration- a hallmark of a Germasian brand.
More About the Breytenbach BB7745BE Automatic
Movement
The automatic movement is a Sea-Gul big date multifunction. This automatic movement is fairly well-regarded in the watch community and powers a lot of watches (including many Germasian brands). It is widely available and relatively easy to get serviced.
The reliability of Sea-Gul automatic movements is the subject of debate.  My experience has been fairly positive, with no problems to report aside from the obvious lack of accuracy.
Testing the Breytenbach against a digital stopwatch revealed an 18 second loss after 24 hours. At that rate you'll likely be resetting the time after 3-5 continuous days of wear.
Value for Money
This is where the review gets a little weird. On one hand, having a complicated and decorated movement does offer some value if its the complications that you're after. On the other hand, there's almost nothing to differentiate this Breytenbach from the myriad of other Germasian brands out there- and many of those brands use the same movement and cost far less than the $500ish price-point this watch seems to exist at.
Then you also have to consider what you're buying. A $500 Swiss or Japanese watch will get you a reliable and well known movement, likely a sapphire crystal, and the warranty that comes with it. You may not get the same complications (you'll be more likely to find a day/date than a full calendar), but there's a very strong probability that the watch you do buy will be more reliable anwyay.
In my opinion the Breytenbach does not offer good value at its $585 MSRP. If you can find it somewhere for under $150, absolutely buy it with confidence that you paid a fair price. Paying anything over $150 is hard for me to recommend.
Summary
Reviewed By
Review Date
Reviewed Item
Rating





Breytenbach BB7745BE Review Conslusion
48%
My thoughts A $585 MSRP is pretty steep for a watch with no history and no backing... and not even a company website (that I could find). Assuming the price doesn't deter you, the Sea-Gul movement isn't bad and it does come with a nice set of complications and a well decorated movement. If you like how it looks and don't mind paying a premium for it, sure. Otherwise, I think you'll find better value elsewhere.
Movement Accuracy and Reliability