Bulova 97A121 Automatic Review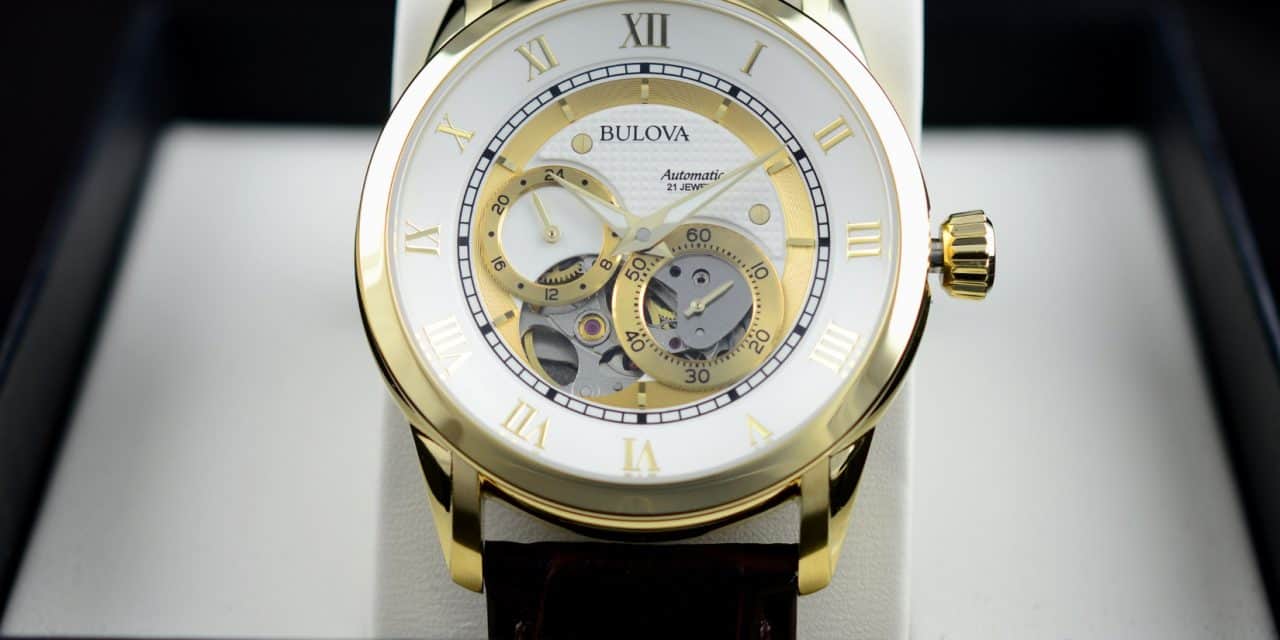 Score 85%
Score 85%
Bulova Sculpted This Open Heart Automatic Beautifully
When I first started WYCA a few years ago, one of the first automatic watches I reviewed was the Bulova 96A101. I liked the 96A101's open heart design, even if I felt the dial was too quiet for its own good. My reaction to this one was a tad bit different: when I first opened the box and saw the 97A121 in person, my jaw dropped.
I love an open heart dial when done correctly (like the cream and rose gold combination on the Hamilton Jazzmaster Open Heart). Like the Jazzy, this Bulova displays its engine beautifully and tastefully.
The real question is: is the watch as good as it looks, or is it just all show and no go?
> Click here to see real customer reviews, specs and prices on Amazon <
Bulova 97A121 Technical Specifications
Movement
Automatic, Miyota 82S7
Complications
Small seconds, day/night indicator
Power Reserve
Estimated 40 hours
Water Resistance
30m / 99ft
Bulova 97A121 Aesthetics & Design
Light just rolls off the bezel and lugs, wrapping around the case and reflecting off of the dial; the dial itself is a display in detail, as each surface showcases a different texture or colour. This is an easy watch to photograph because of how well done it is.
The gold and white combination is gorgeous. At 40mm, it's sized so as to let the gold shout without it actually being too loud. The open heart adds a dimension that simply isn't possible without that cutaway; the dial has depth, with the hands towering over the lower sections.
I love that you can see the gears so clearly hiding underneath the small seconds and 24 hour rings. At a glance, this Bulova looks polished and well presented; when really assessed, you can see details emerge that could only come from such a deft combination of mechanical power and refined beauty. It looks fantastic.
The knurled and embossed crown looks just as good as the rest of the watch. It turns freely when manipulating the movement, and when closed it stays nice and close to the case. It looks great.
Bulova has really done an excellent job with the movement. The Miyota 8247 is on display in all its glory, and Bulova has decorated the movement so that it looks fit for the part. I love the tuning fork engraving on the cut-away rotor, and I really love how the grooved movement refracts light underneath.
Front and back, and from every side, this Bulova is a looker.
> Click here to see real customer reviews, specs and prices on Amazon <
Bulova 97A121 Automatic Build Quality
This particular watch came with a small, almost impossibly-noticeable dent in the crown that I only saw after taking over a hundred photos from behind the viewfinder of a 90mm macro lens. One of the things I love about macro photography is how you can find small details like that.
Crystal, Case, & Dial
I'd have liked to have seen a sapphire crystal here. The rest of the watch is so posh that it seems a mistake to use a mineral crystal. Other watches in the $350 price range do offer sapphire, like the Seiko Alpinist or the upcoming Hastings & Co. Heritage Edition.
The gold case and crown are finished as well as they look. Every Bulova watch I have reviewed to date has had good fit and finish, and the 97A121 is no different. All the surfaces are polished nicely, and the gold coating is uniform and well done throughout.
The dial – I really love it – is easily the best part of the watch. Under zoom it is free of any build quality concerns, looking great from every angle I tried.
Strap & Clasp
Bulova has fitted the crocodile-grain leather strap with a deployment clasp, and it's a great one. Gently pull the engraved part of the clasp away from the strap and it will pop open, allowing you to easily set the size.
The deployment mechanism is tight, secure when closed, and easy to operate. Like the case and dial, it too is finished in gold (and it looks fantastic).
Brown is a great compliment to the dial, and the strap itself is light on the wrist and comfortable to wear.
About the Miyota 82S7 Automatic Movement
Ever since Citizen watch company purchased Bulova, their combined market share designates them as the largest watchmakers in the world. Part of their conglomerate is Miyota, a Japanese movement manufacturer.
Miyota is widely considered a reputable manufacturer, with their movements being comparable in quality and capability as many Swiss-made ETA movements. This one is non-hacking, but it can be manually wound.
According to toolwatch.io, the Miyota 82S7 movement in this Bulova is +18 seconds per day. That's within spec, and while it's not the most accurate (if you want accurate, try this Bulova Accutron II), it's certainly within reason for a sub-$500 automatic watch.
How to Set the 97A121
To set the time, unscrew the crown and pull to position 2 (furthest). Turn the crown in either direction to set the time. Note the position of the 24 hour hand in order to differentiate between AM/PM.
This is Another Great Automatic Watch from Bulova
You've got to appreciate when a well-known and respected brand brings you an affordable automatic watch that doesn't skimp on the details.
I like the small seconds and 24 hours hands, both in design and in their merits as complications. Cutting away the inner circle of the subdials is a great effect and it really elevates their design. I think Bulova nailed the open heart part of this watch.
It's also comfortable thanks to a supple leather strap and a posh deployment clasp. It's easy to set, refine, and wear. This is my new pick for a beautiful auto for under $400.
Bulova 97A121 Automatic Review Conclusion
85%
Summary This Bulova has as lot of things going for it. First, it's a great looking open heart that isn't over styled; It's competitively priced, clocking in somewhere around $300 - $350; it's built well, like every other Bulova I've reviewed to date. It's a great watch and has earned a great recommendation from me. Check it out!
Movement Accuracy & Reliability