Review: MQT Horlogère Suisse Essential Four Gent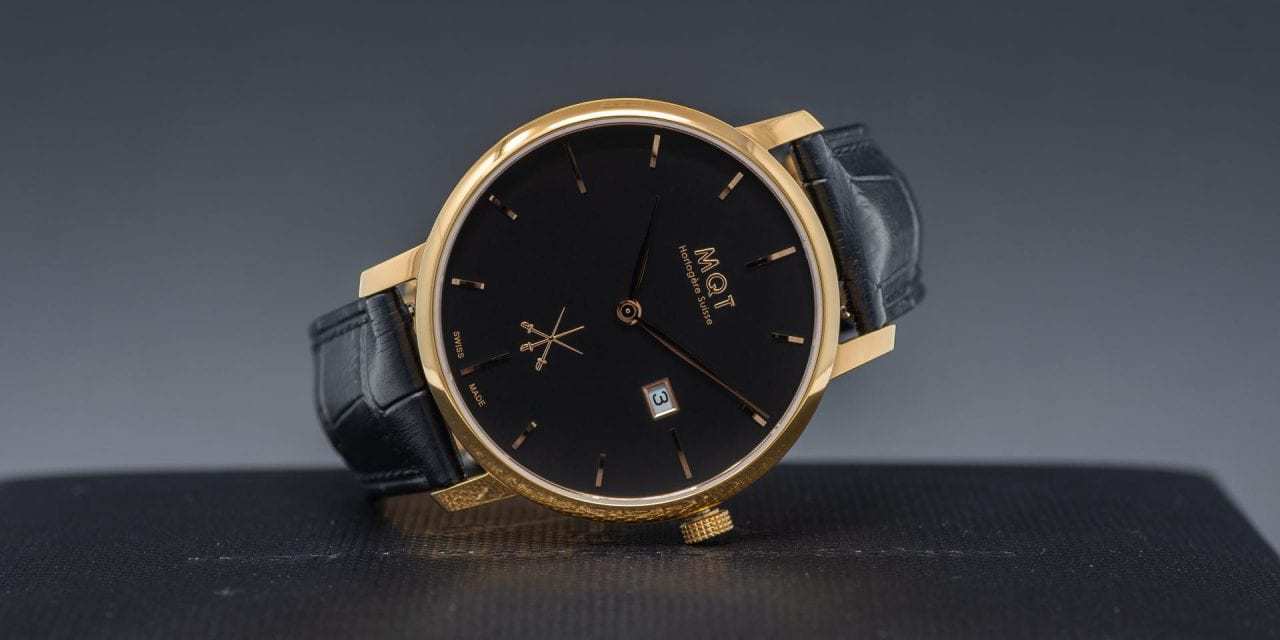 Affordable Swiss-Made Minimalism From an Up & Coming Microbrand
Words/Photography: Me / Model: Don Camacho
Microbrands love to create minimalist quartz-powered dress watches. WYCA has covered nearly a dozen such watches in the past few years, and this trend shows no signs of slowing down. Differentiation among them is challenging, yet that's what MQT Horlogère Suisse has accomplished in the Essential Four Gent.
Priced at $229 USD as of the time of this review, the Essential Four Gent affords its wearer versatility via sapphire glass, a clean and minimal face (surprise!), and a quick-release leather strap. Style is conscious and reserved, boasting a good degree of attractiveness. Also worth noting is the use of the Swiss-made ETA 955.412 quartz movement, which alone allows the Essential to stand out compared to other microbrand watches following a similar formula.
So, while the Essential Four Gent is similar in nature to others, it stands above the majority due to its attainable price, excellent construction, and overall polish. Let's dive in and check it out in more detail.
Disclosure: MQT Horlogère Suisse provided this Essential Four Gent at no-cost for the purposes of this review.
Where to Buy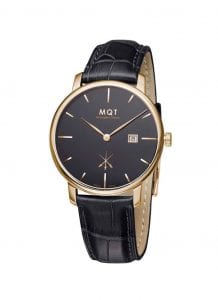 MQT HORLOGÈRE SUISSE ESSENTIAL FOUR GENT TECHNICAL SPECIFICATIONS
Model Number
Essential Four Gent
Movement
Quartz, ETA 955.412
Complications
Date display
Battery Life
Approximately 5-6 years
Water Resistance
50m / 165ft
Crystal Material
Sapphire
Rose & Black is Back, Baby!
Okay, so it never really left. Fair point. Still, here it is on Don's wrist and, dare I say, it looks mighty fine. Rose gold and black is always a good combination, and the MQT logo at 6 o'clock – plated in rose – breaks up the dial and gives it the "pop" that a minimal watch like this needs.
In fact, Don's first words when he put it on were "sweet, I love the logo". Good call, MQT.
Textures are kept reserved and flat, with the knurling on the crown being the only texture to break that trend. It gives the crown a point of emphasis without conflicting with the rest of the design. Rose indices and hands, which are difficult to photograph without significant glare from the crystal, break up the dial and tie the look together.
It's a style I've seen before, but it's done well and with a few extra touches that set it apart. All good here.
It's sized at 41mm which is a good size for a dress watch. Big enough to be noticeable, but not so big so as to be obnoxious. Many brands go oversized when designing watch cases to the detriment of the watch- a mistake MQT has not made. Thank you for that.
20mm lugs are suitable and helps the Essential look balanced and properly proportioned. 18mm would have been too small and made the watch feel top heavy.
Sensible sizing helps the Essential's polished surfaces – the case, crown, and buckle – stand out. Each component adds to the larger whole and, together, they combine to provide a great look overall. This is true of the black and rose gold version I have here, but I think it really works for some of the other color schemes- namely, the brown leather and silver case/dial version. That one is a real beauty.
Thank You For Supporting WYCA
WatchesYouCanAfford.com is monetized via contextual advertising (ie- Google AdSense ads) and affiliate relationships. We are affiliate partners with Amazon and Certified Watch Store.
We strive to be a reliable source of unbiased reviews. We do not and have never accepted compensation in exchange for a good review. Our goal is to showcase watches worth your hard-earned money. All the reviews on WYCA were done hands-on, with most of the watches being purchased by us for the purposes of review.
Read more about our review policies.
Over the years we have heavily invested in photography equipment and software to improve the quality of our website and media. Thanks to the support of our readers, we will continue to invest in improving the quality of our content. Thank you for reading!
Using a Swiss-Made ETA Quartz Movement
When people think of ETA movements they tend to think of the automatic and mechanical models. I have personally reviewed dozens of watches with ETA automatics in them, and my collection has at least a half-dozen watches with ETA heartbeats. All have been good to me over the years.
The caliber 955.412 is a "high-end" quartz that has a date wheel and 7 jewels.  In this application, it is lacking a seconds hand (a factory option for the movement). Battery life is quite good, lasting 5-6 years before a replacement is needed. The movement also has an "end of life" indicator that makes use of the seconds hand to indicate that battery levels are low- a lack of seconds hand on the Essential obviously writes that out of the equation.
Expect accuracy in the +/- 1 second/day range, which is a bit better than average for a quartz but significantly better than what you'd get from an automatic. 
Build, Strap, & Other Details
Turn the Essential Four on its dial and you'll find a sparsely decorated and highly polished steel caseback with the MQT "three sabre" logo engraved at the center. Various specs are engraved in a circle surrounding the dial, completing the package. It's simple and looks fine.
Strap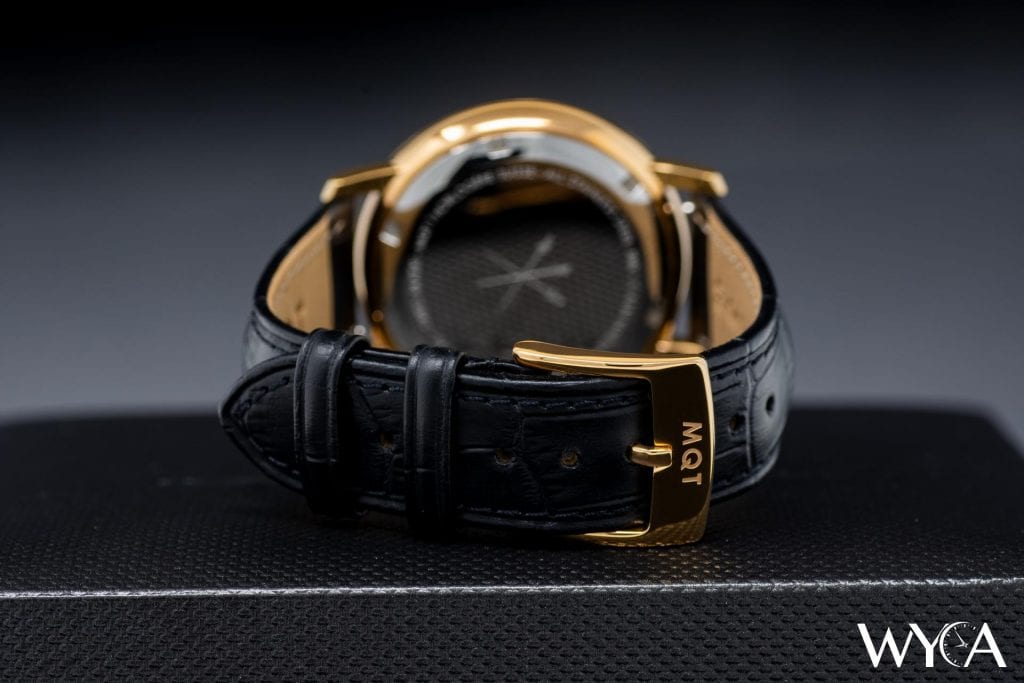 The black crocodile-grain leather strap was somewhat stiff when the Essential first arrived, which I found surprising since the watch arrives clasped around a pillow in its box. Normally straps that arrive in this fashion aren't stiff at all. 
Happily, it loosened up quite quickly during its first wear and became a comfortable companion shortly thereafter. 
The straps are the typical leather and buckle variety, though they are thankfully quick-release and easy to change as a result. I'm always happy to see quick-release springbars used as the strap is the most obvious wear item on the watch and will be something that is replaced more often than any other component. 
The strap is comfortable, though entirely unremarkable. Given the price point, and considering the use of sapphire and a Swiss-made movement, this isn't too surprising. It makes sense and feels appropriate. Besides, being unremarkable in this instance is not an inherently bad thing. It fits, and it's comfortable. 
The buckle is rose gold and engraved with the MQT logo. It's also standard fare, but it helps complete the upscale aesthetic and matches the rest of the watch. No concerns here.
Build Quality
I was convinced that if I was going to find fault in the Essential Four, it'd be here. After all, it's a Swiss-made watch that sells for under $230. And, in that scenario, the most obvious place to cut corners would be in the details.
Now, to be clear, I'm not a watchmaker. I don't crack open cases and take out dials to asses. However, I am a photographer and I leverage my 40 and 90mm macro lenses to get a close-up view. Let's have a look at the dial under substantial magnification.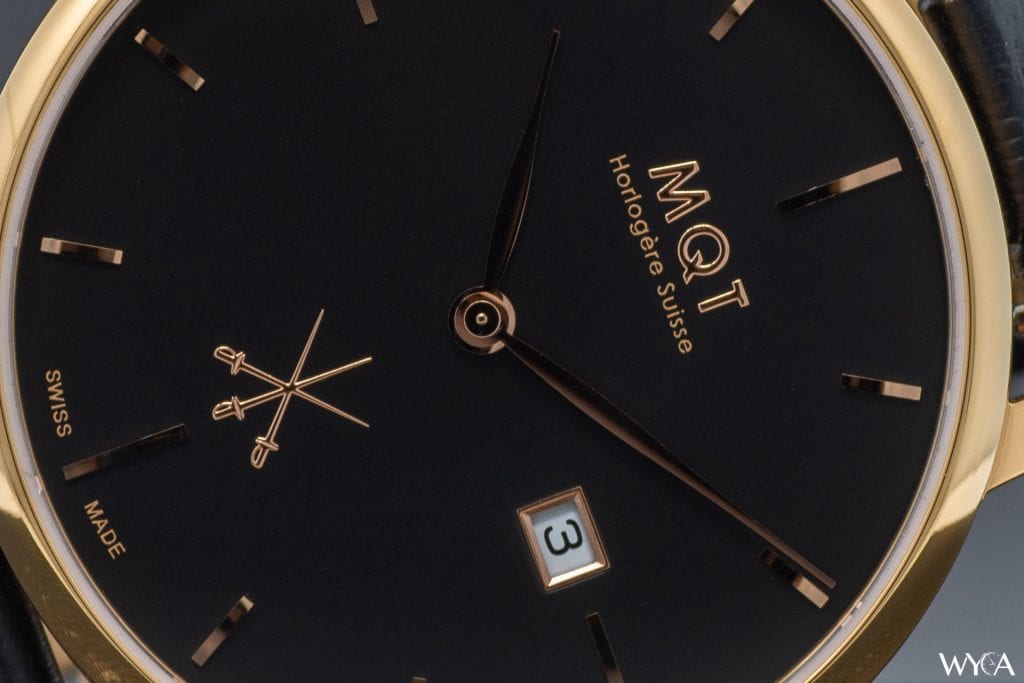 A few things stand out to me:
There are no blemishes on any of the hands or indices that I can see. Even when adjusting the angle of the light against the dial, the hands and indices are free of scratches, scrapes, and imperfections in the finish.
The indices are properly aligned, as are the two logos.
The printing for Swiss Made and Horlogere Suisse are free of bleeding and have clean lines. It's good quality.
The cut-out for the date window looks good and is properly aligned.
All very good signs and indicate that the watch was made well. 
Who is MQT HORLOGÈRE SUISSE?
MQT Horlogère Suisse is a Swiss brand, founded in Bern, Switzerland. They are a very young company, approximately a year old as of the time of this writing (founded in March 2017). MQT was co-founded by two people – Hanna Sterchi and Thomas Heer – and, like other microbrands, is focused on skipping the traditional retail model and selling directly to their customers.
A few notable points:
Their return policy is 10 days from the date you receive the watch (as opposed to the purchase date)
They offer a two-year warranty, which is better than the industry standard one year.
They offer free worldwide shipping.
They run their own foundation – the MQT Foundation – with the goal of encouraging and supporting kids developing an interest and participating in sports. 
My kind of company 🙂
A Great Option for Affordable Swiss-Made Minimalism
Building a brand is difficult. I know this first hand, both with my efforts here on WYCA and with some of my other companies as well. It takes hard work, dedication, and pervasiveness. You have to be able to do something well and do it differently.
The Essential Four is an example of building on an existing concept and adding something that differentiates it. Affordable minimalism isn't new, especially since we found ourselves in the middle of Kickstarter powered microbrands. But affordable Swiss-made minimalism, using Swiss movements and upper-end materials, is. 
I've yet to find a fault in the Essential Four that would deter me from recommending it. In fact, the closer I look, the more I like it. However, next time I get an MQT, I'm going to get the brown leather and steel version- that's my kind of casual-wear minimalism.
The bottom line: MQT Horlogère Suisse may be a young company, but they've clearly leveraged experienced watchmakers to produce the Essential Four. This watch is priced right, made well, and great to wear. That's a winning combination.
Summary
Reviewed By
Review Date
Reviewed Item
MQT Horlogère Suisse Essential Four Gent
Rating