Tissot Le Locle Review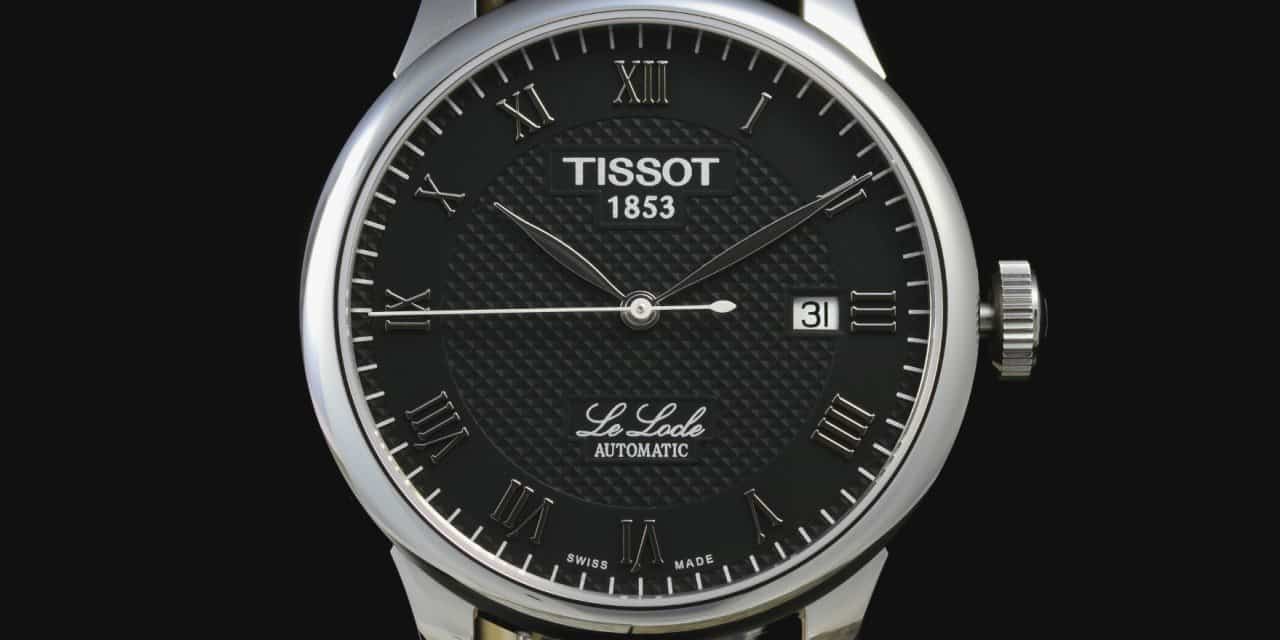 Score 80%
Score 80%
About Tissot
Tissot was founded in 1853 and has a legacy of building attractive watches at reasonable prices. They are part of the Swatch Group and are headquartered in Le Locle, Switzerland. Tissot has extensive history in sports, including cycling, fencing, ice hockey, formula one, and more.
Tissot is a reputable Swiss manufacturer and is generally well-regarded.
HOW WE REVIEW WATCHES
Our reviews are based on our first-hand experience with the watch. All photos and media are created by us (unless otherwise credited). Learn more about how we review watches and check here to see real customer reviews, specs and prices on Amazon.
Review Summary
Lacking any complications, save for the date feature, the Tissot Le Locle is a classic no-nonsense watch. Its Roman numeral hour markers and sculpted hour and minute hands provide a small amount of flair to an otherwise subtle timepiece. At $625 it isn't the best value-play, but with an ETA 2824-2 movement and date functionality, coupled with Tissot's quality and workmanship, you are getting a fine piece of kit in the Le Locle.
Tissot Le Locle Automatic Technical Specifications
Model Number
T41.1.423.43
Movement
Automatic, ETA 2824-2
Complications
Date display
Power Reserve
Approximately 38 hours
Water Resistance
30m/98ft
Crystal Material
Sapphire
Operating the Watch
Both the time and date display are set using the crown. Note that you should never set the date when the time indicates between 9 pm and 3 am.
How To set the time:
Pull crown to the furthest position (position 3). Turn the crown clockwise to set the time. Note that the date display will roll over at midnight, indicating AM time.
How To set the Date:
Pull crown to the middle position (position 2). Turn the crown clockwise to set the date.
Tissot Le Locle Automatic Aesthetics & Design
Suffice it to say that the post photos do not do the Le Locle any justice at all. The textured mat-black dial contrasts against the chrome hour/minute hands and Roman numeral hour markers. It's a very classy look overall, as the Le Locle commands your attention without having to bark at you to get it.
At 39mm, the case is perfectly wearable for most men. It isn't ostentatious and it knows its place, relying on acting as a completionist piece as opposed to the peacocking type.
Tissot Le Locle Automatic Build Quality
The stainless-steel case feels solidly built, with a good weight and no signs of physical imperfection. This is what you can expect from a Tissot in this prince range, though- something put together well, though it lacks some of the flair that you get with a watch that's a little more besp0ke. Once you've taken some time to break the leather in (it is quite stiff when brand new) you'll find the Le Locle to be fairly lightweight for an automatic, making it comfortable to wear for long periods at a time.
Crystal, Case, and Dial
Tissot has given the Le Locle sapphire glass, and like the rest of the watch, it remains durable and blemish-free after my review. It is not significantly domed and lies flat against the bezel.
The stainless case, which features a polished domed-bezel, delivers a great looking package that is also daily wearable. It shows none of the usual wear signs after review.
Strap and Clasp
The strap is genuine leather with crocodile grain. It has a nice feel to it and is quite plush against your wrist. The Le Locle features a deployment clasp that is quite attractive and should let you keep the leather strap looking great for a long time to come. During my testing the clasp never came loose or undid itself- it always felt snug and secure.
The deployment clasp, while quite secure, is also a bit of a bother from time to time. Most of the time you won't even notice that it's there, but sometimes you will find it quite difficult to actually unclasp. The first time I opened it I was worried that I had broken it- I quickly learned that it's just an over-achieving clasp.
More About the Tissot Le Locle Automatic
Movement
The ETA 2824-2 is the workhorse of the ETA lineup. It's an automatic winding, hacking, movement. It is accurate to within 20 seconds per day, though during my testing it showed an average loss of 3 seconds per day.
It is likely that Tissot uses an Elabore grade movement.
Value for Money
You can go on Amazon right now and buy a Le Locle Auto for $350. Should you? Absolutely.
Despite having an MSRP just north of $600, rarely have I seen it for sale for more than $400. At that pricing, the Le Locle Auto becomes a veritable bargain.
$400 will get you an expensiveish Japanese or Swiss quartz, entry-level automatic, or one of the many Germasian brands that are proliferating the internet. In this application, it gets you a sapphire crystal, Swiss construction, and the industry benchmark for an automatic movement.
Summary
Reviewer
Review Date
Reviewed Item
Author Rating





Tissot Le Locle Review Conclusion
80%
My thoughts The Le Locle is a fine looking automatic that pairs with nearly any outfit with a sleeve. It's subtle, using dial-colored texture to draw the eye as opposed to flashy dials or decoration. It comes with sapphire glass, an ETA engine, and the build quality Tissot is known for. The Le Locle's a winner.
Movement Accuracy & Reliability