Stuhrling Original Symphony Eclipse Horizon Review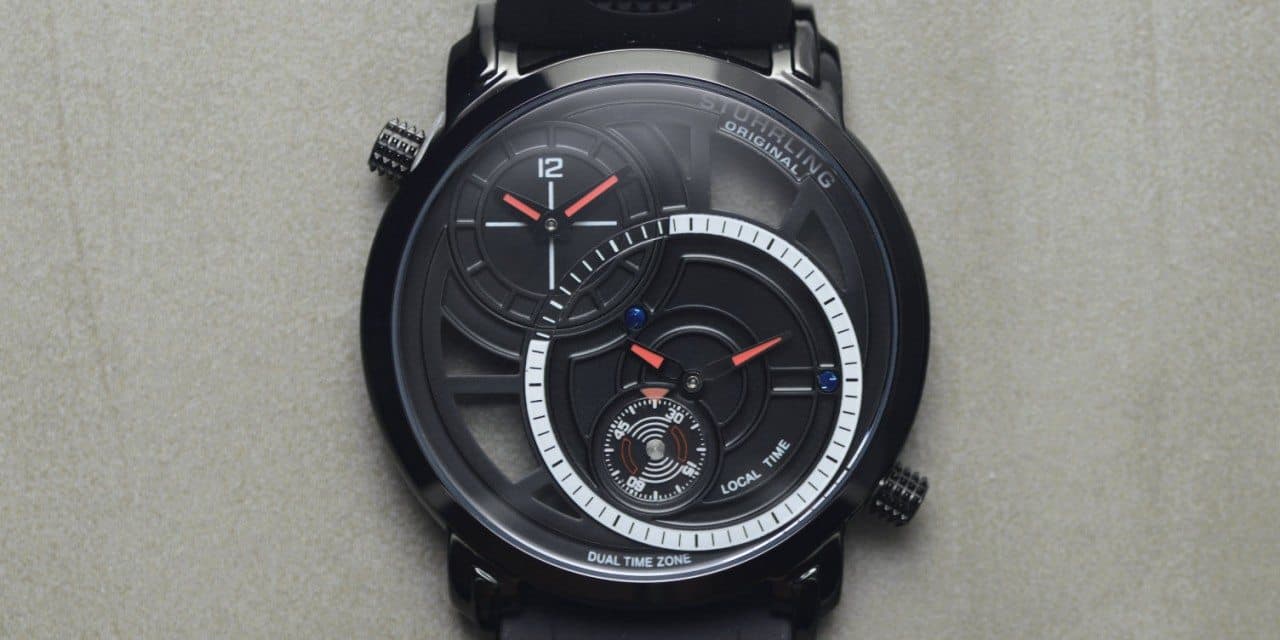 Score 45%
Score 45%
About Stuhrling Original
The brand's originals date back to the 1800's, but the Stuhrling Original of today began in 1999. Stuhrling watches have proliferated online watch stores, especially Amazon, with thousands selling every day. The brand's popularity stems from its flashy designs, skeleton faces, and extensive use of inexpensive automatic movements.
Stuhrling Original is said to have good customer service that honors their warranty.
HOW WE REVIEW WATCHES
Our reviews are based on our first-hand experience with the watch. All photos and media are created by us (unless otherwise credited). Learn more about how we review watches and don't forget to check here to see real customer reviews, specs and prices on Amazon.
Review Summary
The Symphony Eclipse Horizon, as it's dramatically called, is a ridiculous watch. The 47mm case is monstrous, and the translucent sections of the dial give it even more wrist space. The sparse use of color makes the watch feel more techno-punk than world traveler, but I think that's kind of the point… which is odd, given that it's got two separate movements for each dial. Like all Stuhrling's, you'll find it's street price is around $120 as opposed to its $595 "MSRP".
August 21, 2016 Update – It died. Review updated appropriately.
Stuhrling Original Symphony Eclipse Horizon Technical Specifications
Movement
Quartz, Ronda 762 & Ronda 1069
Battery Life
Approximately 3 years
Water Resistance
50m/165ft
Crystal Material
Krysterna
Setting the Time
Each of the time zones that the Eclipse Horizon displays use their own quartz movement and are controlled by the crowns located at 4 o'clock and 10 o'clock.
How To set the time:
Pull crown to the furthest position (position 2). Turn the crown clockwise to set the time. Note that each dial must be set individually.
Stuhrling Original Symphony Eclipse Horizon Aesthetics & Design
To say that Stuhrling Original is a style-conscious brand would be an understatement. Some of their watches, like this one, demonstrate that they can comfortably wade into fashion watch territory when they feel so inclined. In the case of the Eclipse Horizon, this is most certainly a fashion watch sporting a dual-time gimmick.
At 47mm, it's so big that it's almost ostentatious. On most men the watch will fit decidedly oversized, and if that's the look you're going for… great! Otherwise, most men will want to stick in the 38 – 44mm range.
The ion-black coated stainless steel case is otherwise ho-hum, save for the two crowns at the 4 and 10 c'clock positions. The knurled crowns give the Eclipse Horizon a brief taste of texture, whereas all the other surfaces are flat in both form and finish.
The flatness pairs with the extensive use of black, creating a watch where the hour and minute hands practically leap off of the face; the two blue screws provide a much-needed dash of color against an otherwise monochrome backdrop. The white ring surrounding the main dial breaks up the monotony and anchors the eye when viewing.
> Click here to see real customer reviews, specs and prices on Amazon <
Stuhrling Original Symphony Eclipse Horizon Build Quality
Where I've noticed consistent challenges with Stuhrling Original watches has been on the build quality. On the Eclipse Horizon, I noticed after taking a few photos that the black plating was wearing on the lugs where watch was moving against the ceraminc tile. While I would expect some wear, I was surprised to see the plating almost completely removed.
Crystal, Case, and Dial
Krysterna, the material used by Stuhrling Original on most of its watches, is claimed to be more durable than a standard mineral crystal. Rubbing common metal items, such as keys, against the crystal does not damage it. I think that the crystal will stand the test of time fairly well.
Where I am concerned is the case. The ion-black plating wears off a lot easier than I was expecting and makes me a little wary about how it will hold up long-term. It's worth noting that the bezel looks great, as do both crowns- it's just the bottom of the lugs that are showing wear, and that's because they act like feet when the watch lays flat.
Strap and Clasp
The silicon rubber strap looks and feels great. It's flexible, soft to the touch, and doesn't irritate the skin when worn. The stainless steel buckle also feels quite secure. I suspect the strap would give way before the buckle would.
More About the Stuhrling Original Symphony Eclipse Horizon
Movement
Stuhrling Original is using two Swiss-made Ronda quartz movements.
The Ronda 762 movement, which powers the dial at 10 o'clock, has an estimated 10 year battery life. It is accurate to within 20 seconds per month.
The Ronda 1069 movement, which powers the dial at 4 o'clock, has an estimated 2.5 year battery life. It is also accurate to within 20 seconds per month.
Value for Money
August 21, 2016 Update – The Symphony Horizon is no more. It died. The seconds wheel stopped spinning and the movement couldn't go on without out it. It broke the same year it was bought. The review has been adjusted accordingly.
The Symphony Eclipse Horizon can be found on Amazon for around $125. That's fairly expensive for a quartz timepiece that uses basic materials and a rubber strap. The value is somewhat increased by the addition of a second timezone, but that alone doesn't sell me on $125.
Fact is, the Eclipse Horizon is a fashion watch through and through. It's designed like it's meant for a techno-punk straight out of a Tron movie. The good news here is that if you're into that kind of thing, the Eclipse Horizon at least looks the part and it might not break on you while you're off doing… whatever it is you techno-punks do.
Where to Buy
Stuhrling Original Men's 503.33561 Eclipse Horizon Swiss Quartz Dual Time Black Watch
(22 customer reviews)
Stuhrling Original Symphony Eclipse Horizon Review
45%
My thoughts This version (model: 503.33561) isn't the version of the Symphony Eclipse I'd go for. If I had to get an Eclipse Horizon, it'd be model 503.33X66, which is done up with a blue PVD case. Has anyone also noticed how large this thing is? I mean, any bigger and it'd need it's own time zone... sheesh.
Movement Accuracy & Reliability