Watch Photography
We Love Taking Photos of Watches
There's something about the way a polished bezel and a guilloche dial play with light that makes watch photogaphy interesting. Our photo stream is where we post galleries whenever we do photo shoots and side by sides. You can also see our media on our Instagram profile.
Hardware
Nikon D3200
Nikon 40mm macro
Tamron 90mm macro
Nikon P530 hand-held
Check Out Our Galleries!
Every now and then we'll do a photo stream shoot, where we take some high-res shots specifically to showcase a watch. It isn't a review so much as it's a celebration of what makes a watch look and feel great. We hope you enjoy!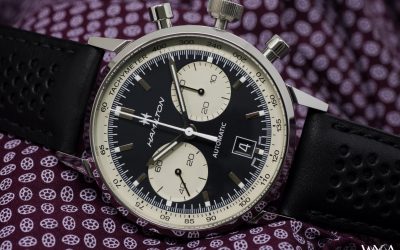 Justin Ng, owner of Gem by Carati and frequent WYCA benefactor, got in touch and asked if I was ready to check out another limited edition Hamilton. Who could say no to a line like that?
He sent me over the newish Intra-Matic 68, a limited-edition auto chrono powered by Hamilton's H-31 automatic. Only 1968 of these were built, and of those, only 20 made their way to Canada. With that in mind, let's check out this modern take on a vintage greatest hit.
read more