Citizen BM8475-26E Review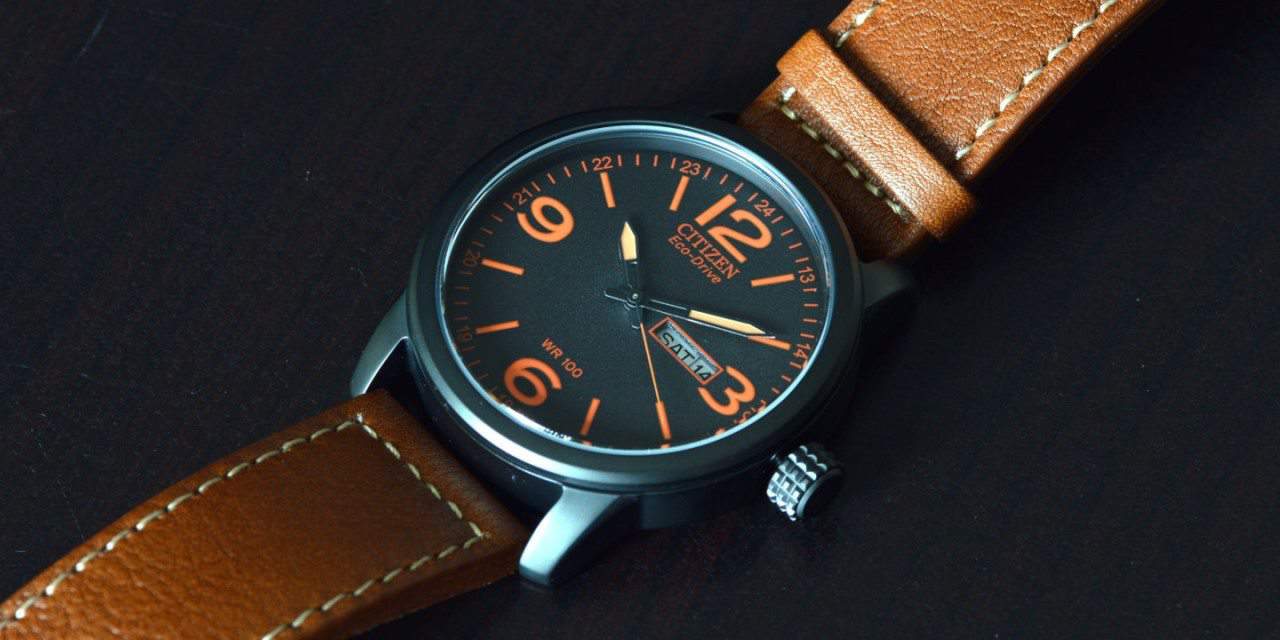 Score 90%
Score 90%
About Citizen
Founded in 1918, and producing timepieces since 1924, Citizen holds the distinction of being the world's largest watchmaker (since 1986). With annualized revenues of over $2 billion (operating year 2010) Citizen is a world leader in quality and innovation.
Known for precise quartz watches, Citizen is perhaps most famous for its "Eco-Drive" line of movements.
HOW WE REVIEW WATCHES
Our reviews are based on our first-hand experience with the watch. All photos and media are created by us (unless otherwise credited). Learn more about how we review watches.
> Click here to see real customer reviews, specs and prices on Amazon <
Review Summary
I really like this Citizen. The orange and black color scheme is a great combination. At night, the lume is so bright that you will have no problems easily telling time. The Eco-Drive movement inside is rock solid. This watch is a great buy, especially if you can find it for anything under $175. The BM8475-26E is a regular part of my watch rotation.
Citizen BM8475-26E Technical Specifications
Complications
Day/date display
Battery Life
Indefinite (solar powered)
Water Resistance
100m/330ft
How To set the time:
Pull crown to the furthest position (position 3). Turn the crown clockwise to set the time. Note that the day and date displays will rollover at midnight, indicating AM time.
How To set the date:
Pull the crown to the middle position (position 2) and turn clockwise to set the day, counter-clockwise to set the date.
Citizen BM8475-26E Aesthetics & Design
The design language that Citizen has chosen for the BM8475-26E really appeals to me. The orange used for the hour markers isn't something you see on a watch very often, and I find the color scheme overall to be quite fun to play with. You can wear it with almost anything that isn't formal.
The tan leather strap is easy to change. Right now I've got the BM8475-26E rocking a black nato strap (specifically, this one) and it looks great.
The black ion plated stainless steel case has a semi-mat finish, so it reflects some but not much light. It makes for a great effect, because the black textured dial has a similar finish. This makes the orange really pop off the face. At night, the lume is quite bright.
It's a thin watch thanks to the Eco-Drive movement. It doesn't need a rotor, just a solar cell (which doubles as the dial) and it's good to go. This thinness makes it easy for you to dress it up, down, or however you like it.
I think Citizen did a great job with this one.
> Click here to see real customer reviews, specs and prices on Amazon <
Citizen BM8475-26E Build Quality
I expect the BM8475-26E to hold up well over time. The stainless steel case is ion plated, and so far it has been quite durable. I put a small nick in the bezel after I accidentally smacked it on a steel bar (oops), and the black color didn't scratch away (in fact, it hides the little dent quite well).
Crystal, Case, and Dial
The mineral crystal is pretty standard. If it is anything like other Citzens that I have reviewed I expect it will hold up just fine over time. I have never had any kind of problems with the crystals used by Citizen on their entry-level watches.
One thing that I was initially concerned about with the case was that it is ion plated. Stainless steel is a pretty standard material to use for watch cases, but I find that at the sub-$250 price point that the coatings used on colored ones can wear easily. Thankfully, this does not appear to be the case with the BM8475-26E.
Overall, I feel that this is a well built watch.
Strap and Clasp
The tan leather strap that comes standard with the BM8475-26E is good quality. It doesn't show obvious wear despite me stretching and tugging at it. This is partly due to the fact that it's a synthetic leather stra, which does feel a little rubbery compared to genuine leather (but not so much as to be offensive).
The clasp is a standard buckle, also black plated. A few stern tugs failed to release it, and it has held up fine during regular wear.
I personally didn't find the strap to particularly comfortable to wear so I replaced it with a nato strap (this one), which I find matches the watch better and is more comfortable. This is personal preference, so don't let that discourage you if you're otherwise interested in the BM8475-26E.
More About the Citizen BM8475-26E
Movement
Citizen is most famous for its Eco-Drive line of movements, which are solar powered and thus never require you to change a battery. The E011 movement inside the BM8475-26E has a six month power reserve, meaning that it can go six months without requiring exposure to light to charge.
Citizen says that wearing the watch on a bright sunny day for 11 hours is all you need to charge it. However, it also receives a charge from just about any light source so this is something that may be difficult to properly test.
In my experience, the E011 movement has been accurate to within a few seconds per day. Once I initially set it, the watch has never required me to adjust the time. It has always been charged and been ticking every time I pick it up.
Read the complete E011 user manual for more information.
Value for Money
I feel that the BM8475-26E is good value at it's $215 MSRP. At that price you're looking at watches that should be a step or two above a Timex Weekender (our benchmark for sub-$100 quartz watches), and the Citizen BM8475-26E is very much a solid competitor in its price range.
It's biggest advantage is the E011 Eco-Drive inside. It gives the BM8475-26E a massive six month battery life, and to completely charge it you simply need to wear it for a day or two. I really love how set and forget the watch is, and I think a lot of people see value in a watch like that.
While its looks are subjective, I'm a fan. Of all the 28-odd watches I own, this is the one that I have the most number of straps for (five to be exact). Changing the strap is simple, and the black ion plated case is very forgiving of scratches and minor wear.
However, the fact that you can easily find this watch on Amazon for well under its $215 MSRP is probably the best thing about it. I'd be happy with my purchase if I paid $215- I'm even happier if it only costs me $160 (which is what I paid on Amazon).
Where to Buy
Citizen Men's BM8475-26E "Eco-Drive" Stainless Steel Watch with Faux-Leather Strap
(432 customer reviews)
Summary
Reviewer
Review Date
Reviewed Item
Author Rating





Citizen BM8475-26E Review Conclusion
90%
My thoughts The BM8475-26E is a regular in my watch rotation. I love how youthful it feels, and thanks to its Eco-Drive movement its one of the few "set and forget" watches that I own. It's synthetic leather strap is a bit of a let down, but other than that I have no complaints. Recommended.
MOVEMENT ACCURACY AND RELIABILITY