Casio G-Shock DW-5600E-1V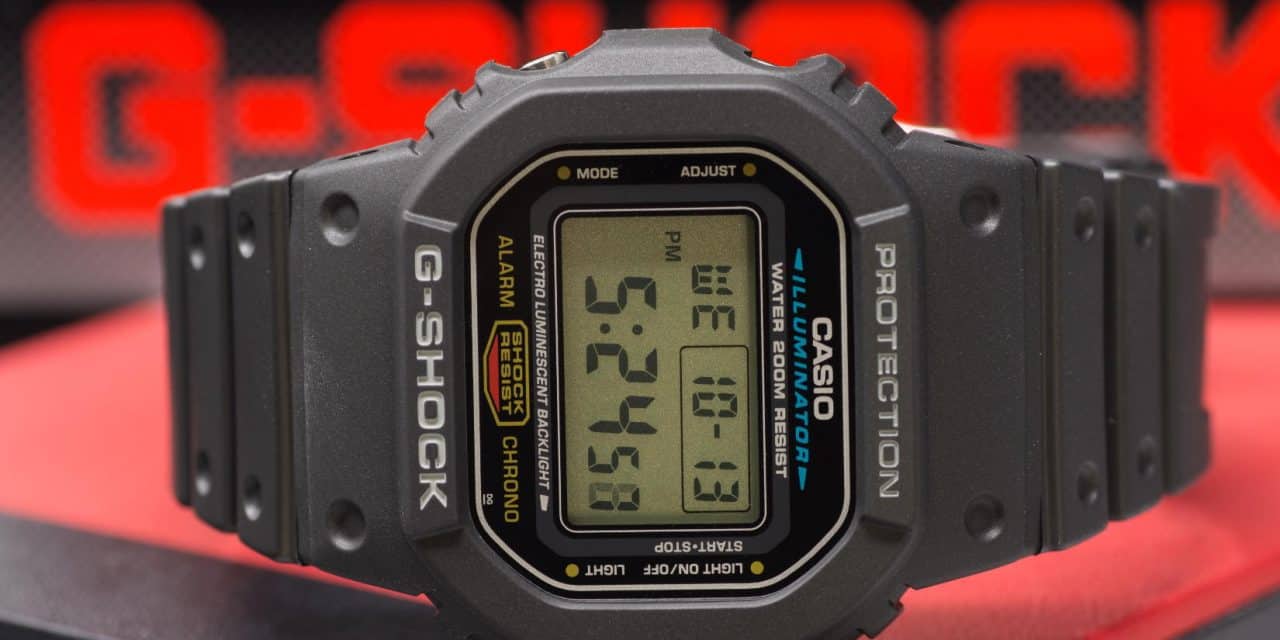 The "Quintessential G-Shock"?
When I close my eyes and think of "G-Shock", it's the 5600E that comes to mind. It is to G-Shock what the F-91W is to Digital, and that's no small thing. I love the F-91W because it's an icon of an era; a time when having a chronograph on your wrist was genuinely useful and when having a calculator in your watch was a step above novelty.
It's during that era – the late 80s and 90s – when G-Shock as a model line was born. And, in 1996, the DW-5600E – as pictured here – was released.
The 5600E is the definition of what I wanted to find when I started WYCA. It's a great value, with excellent water resistance, enduring battery life, unparalleled visibility, and rugged build quality. It also managed to remain aesthetically relevant more than 22 years after its introduction.
These types of qualities are what I appreciate most in a watch. Let's check it out.
Casio G-Shock DW-5600E Technical Specifications
Complications
Chronograph, complete calendar, timer, alarm
Battery Life
Estimated 3-5 years
Water Resistance
200m / 660ft
The DW-5600E Gives a Lot for Not a Lot
G-Shock's standard line – the DW series – are your typical G-Shocks. More capable models are denoted by their GW designation and feature advanced functions, such as solar power, atomic-clock sync (for incredible accuracy), or both. The standard G-Shock line is typically updated twice per year.
This particular DW-5600E was updated significantly in 2010, when its 1545 movement was replaced with the 3229 movement (err, module). Of the two, there are only two differences that the end-user will notice: the updated 3229 module has complete calendar functionality to 2099 (vs 2039 for the older module), and that the updated module has an alarm spring in the battery tray that you will need to be cognizant of when swapping out the battery.
Per the spec list above, the 5600E sports numerous built-in functions. Like most Casio digitals, using the watch is fairly intuitive and doesn't require you to break out the user manual. Here's the manual anyway, just in case.
Manipulating your watch:
The top-left pusher ("A") opens the "adjust" options.
The top-right pusher ("B") acts as the "start/stop" button for most functions.
The bottom-left pusher ("C") switches between the various modes.
The bottom-right pusher ("D") activates the backlight (which is excellent and on par with Timex's Indiglo).
So Just How Tough is This G-Shock?
G-Shock's claim to fame is in how tough their watches are. This quality is why the G-Shock has become popular in various "rugged" types of jobs. Their reputation for taking a beating and still pressing on is why they are often found on the wrists of police officers, soldiers, sailors, contractors, first responders, and most other places where tough timekeeping is required.
Measuring how "tough" something is can be a real challenge. Hitting it with a hammer is usually a good indication…
The DW-5600E also holds a Guiness World Record for the heaviest vehicle to drive over a watch. In December 2017, a 25-ton truck drove over the DW-5600E… and the G-Shock survived. Here, have a look:
I thought about taking my little car and running my G-Shock over, but I'm not sure what value that would add to the review. If you've made it this far, and assuming you watched the above two videos, the toughness of the 5600E is well established. I don't need to run mine over to prove that point.
But… I did it anyway. Check it out:
Is This G-Shock One to Buy, Or Are There Better Options?
When it comes to an inexpensive watch that you could take beyond the Earth and back, the G-Shock line really has no equal. The brand has done a good job establishing itself as the de facto segment leader… because it is. Few brands offer a watch that competes effectively with G-Shock, though they are out there.
Timex has their Ironman series (review coming soon), Suunto has a great lineup of sports watches (albeit, much more expensive than this particular G-Shock), and several fashion brands have their own sports lines (such as Oakley, etc.). Still, even among their competitors, G-Shock stands on its own.
The fact is that the best alternative to a G-Shock that offers comparable durability and functionality is… another G-Shock.
In any case, the DW-5600E-1V is now a permanent addition to my collection. I mean, since I ran it over I can't return it anyway, but even if the option was there I'd keep this G. It's simply too good, and too good a price, to pass up.
Disclaimer: I purchased this watch from Amazon.ca early March, 2018.
Casio G-Shock DW-5600E-1V Photo Gallery