Fossil Decker Chronograph Review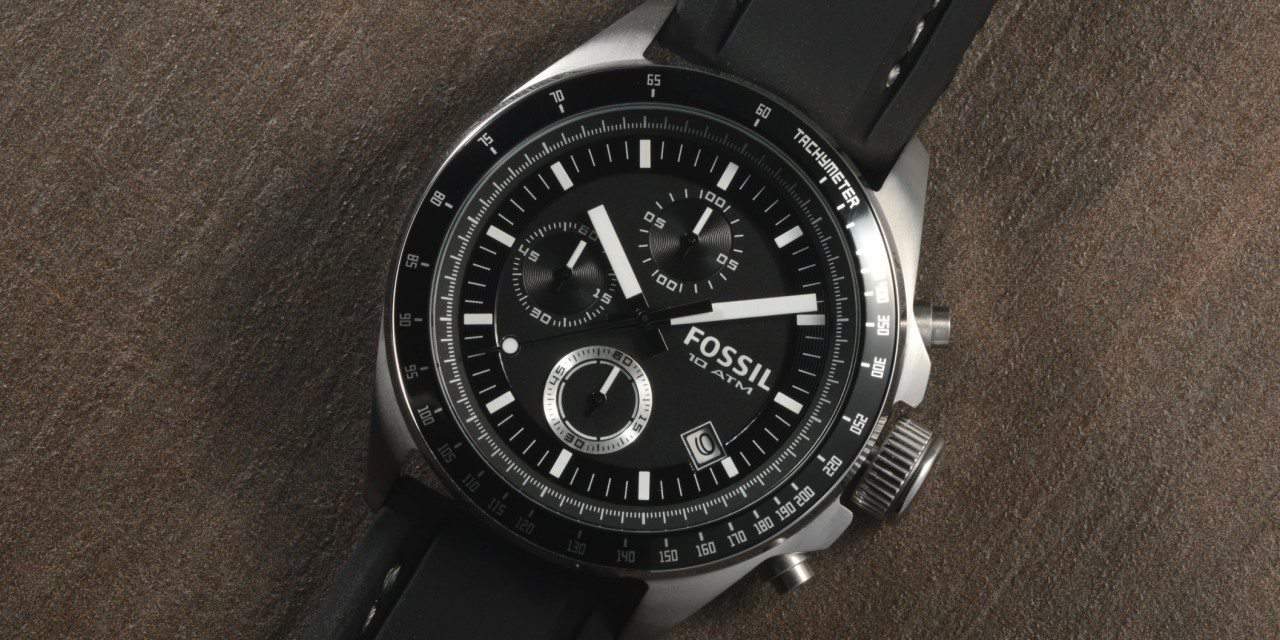 Score 67%
Score 67%
About Fossil
Fossil watches tend to focus more on fashion than on function, though in recent years they have made investments in manufacturing facilities in Switzerland. In 2013 Fossil began offering the Fossil Swiss line of watches that are an upscale Swiss-made brand.
They produce watches for other brands as well, including Burberry, DKNY, Emporio Armani, Armani Exchange, Columbia Sportswear, Diesel, Frank Gehry, Karl Lagerfeld, Tory Burch, Kate Spade, Michael Kors, Callaway Golf, Davis Cup, Marc by Marc Jacobs, Skagen Designs, Michele and Adidas.
> Click here to see real customer reviews, specs and prices on Amazon <
HOW WE REVIEW WATCHES
Our reviews are based on our first-hand experience with the watch. All photos and media are created by us (unless otherwise credited). Learn more about how we review watches.
Review Summary
The Decker CH2573 is pretty good, though it is on the expensive side for what it is. It is comfortable to wear thanks in no small part to the silicon strap. It feels good on the wrist and offers excellent night visibility. It's a perfectly average watch in basically every respect.
Fossil Decker Chronograph Technical Specifications
Model Number
Decker CH2573
Movement
Quartz chronograph
Complications
Date display, chronograph
Battery Life
Approximately 3 years
Water Resistance
100m/330ft
Setting the Time
The time and date display are both set via the crown. The quartz movement will stop all timekeeping when the crown is pulled, making it easier to precisely set the time.
Press the button above the crown to activate the chronograph. Pressing the top button again will pause the chronograph. Pressing the button below the crown will reset the chronograph.
How To set the time:
Pull crown to the furthest position (position 3). Turn the crown clockwise to set the time. Note that the date display will rollover at midnight.
How To set the date:
Pull the crown to the middle position (position 2) and turn clockwise to set the date.
Fossil Decker Chronograph Aesthetics & Design
The Decker comes in a bunch of different combinations, but the black on black silicon is the best looking. The contrast-stitched silicon strap is a nice compliment and feels in keeping with the aviation inspiration Fossil is going for.
The font choice for the tachymeter and subdial markers is… interesting. Perhaps it's because it contrasts with the round "Fossil" logo, but it looks out of place. The rest of the dial is curved, whereas the font is squared off. I think a younger version of me would probably have liked it, though.
The lugs are brushed on top and polished on the sides, with the polish wrapping the chronograph buttons and crown. It's a nice look that feels polished (pardon the pun), with the crown completing the aesthetic with a grooved exterior and mat-finish face.
Fossil has made good use of flat surfaces, which enable the grooved subdial rings and the outer grooved ring to really pop off the dial. Considering that the face of the watch is otherwise devoid of texture, the impact of the subtle texturing is significant. It makes up for the lack of color.
It's not a bad looking watch, especially if you don't mind the font chosen.
> Click here to see real customer reviews, specs and prices on Amazon <
Fossil Decker Chronograph Build Quality
When it comes to build quality, Fossil is mediocre at best – as echo'd by my experience with the Fossil Twist Grant – but that mediocrity doesn't seem to extend to the Decker. The watch feels solid overall, and there are no obvious deficiencies that I was able to find during the three weeks I reviewed it.
Crystal, Case, and Dial
Typical of a watch with a sub-$150 MSRP, the Decker is outfitted with a mineral crystal. It looks no worse for wear after being worn, but if it's like other Fossil's that I have experienced, treat it with care.
The stainless steel case is two-tone: brushed for the tops of the lugs and buttons, polished for the sides and the rim around the tachymeter. Fossil's choice to keep the polish to the vertical areas pays off- they look pretty good for three weeks wear.
On the dial, the hour markers are nicely aligned and the hands are on straight. Everything looks good here.
Strap and Clasp
Silicon straps are often hit or miss, but Fossil has found one that is both attractive and comfortable to wear. It's soft – as opposed to that stiffness that often accompanies a rubber strap – and it molds to your wrist. It also doesn't tug at your arm hair, which is a nice contrast from other straps I've worn.
The polished steel clasp is a standard unit and not particularly notable. It does seem to be holding up to use fairly well.
More About the Fossil Decker Chronograph
Movement
Unfortunately I wasn't able to find much information about the movement used inside the Decker Chronograph. Fossil's website simply lists it as a quartz chronograph, and there isn't much information available online either. It is an accurate movement and I suspect it's Japanese in origin, but that is just an educated guess.
Value for Money
At $105 the Decker Chrono offers okay value. If you're looking for a chronograph, the Timex Expedition Field is $60 less and has far superior night visibility (thanks to Timex's Indiglo). It's also not a bad looking watch, especially if you pair it with a nato strap or a contrast-stitch silicon strap (like the Decker).
Fossil does have a pretty good 11 year warranty, and I've had good experiences with their customer service. I find value in those things, especially if I were to give this watch as a gift to someone.
I don't think I'd buy it, but that doesn't make it a bad buy.
Where to Buy
Fossil Men's CH2573 Decker Stainless Steel Chronograph Watch With Black Silicon Band
(264 customer reviews)
Summary
Reviewer
Review Date
Reviewed Item
Author Rating





Fossil Decker Chronograph Review Conclusion
67%
My thoughts If you're going to get a Decker Chrono, this one (model: CH2573) is the best one. It has good water resistance and feels well built and on par with what you would expect. If something does break, there's always that 11 year warranty Fossil offers. I'm not a fan of the font they chose to use, and the look overall is "okay", but those subjective points are my only real complaints.
Movement Accuracy & Reliability