Timex Weekender Chronograph Review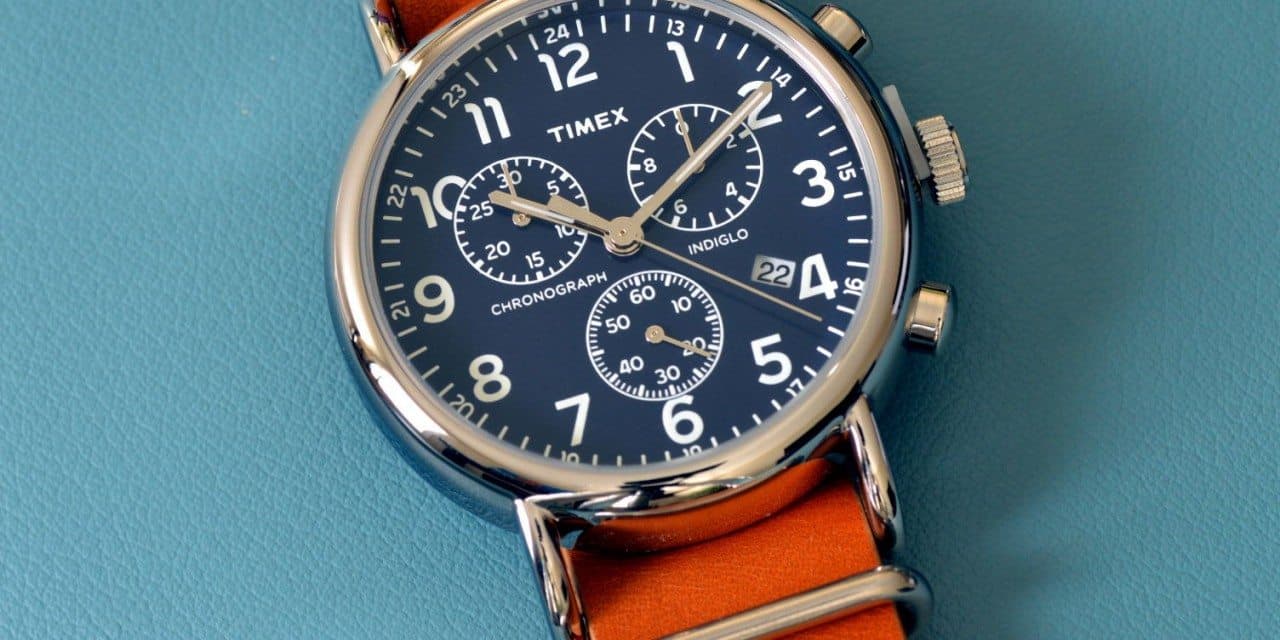 Score 86%
Score 86%
About Timex
Timex as we know it today came to be in the mid-1980's, though the company's history dates as far back as 1854 (in one form or another). Famous for their slogan "it takes a licking and keeps on ticking", Timex watches have become synonymous with inexpensive, durable, reliable quartz timepieces.
We consider Timex a reputable manufacturer and have had good experience with their watches.
HOW WE REVIEW WATCHES
Our reviews are based on our first-hand experience with the watch. All photos and media are created by us (unless otherwise credited). Learn more about how we review watches and check here to see real customer reviews, specs and prices on Amazon.
Review Summary
The Timex Weekender series is a minimalist exercise in affordable timekeeping. This Chronograph (model: TW2P62300)  is another example of the things that make a Weekender great: simplicity, ease of use, and timeless style. I really love that you can get a great watch for well under $75.
Timex Weekender Chronograph Technical Specifications
Movement
W92 quartz chronograph
Complications
Indiglo, chronograph, date display
Battery Life
Around 2 years
Water Resistance
30m/98ft ft.
Operating the Watch
The Weekender 40 Chronograph has two buttons, one above and one below the crown. The top button activates/stops the chronograph function, and the bottom button resets the chronograph.
Read the complete user manual here.
How To set the time:
Pull crown to the furthest position (position 2). Turn the crown clockwise to set the time.
How To set the date:
Pull the crown to the middle position (position 1) and turn clockwise to set the date.
Timex Weekender 40 Chronograph Aesthetics & Design
I am a big fan of the Weekender overall. In my non-Chronograph weekender review I talked a lot about how much I enjoy the minimalist style. The chrono manages to keep the overall look without getting too cluttered.
The tan leather nato-style strap is attractive and compliments the watch face. The face, by the way, looks just as good at night when Indiglo lights it up. Indiglo is easily the best low-light or no-light back lighting you can get in a watch.
The dial is high quality. The markings on the face are sharp, and even under significant zoom from my 90mm macro lens I can't find any imperfections. Overall, I think it's a great looking watch.
> Click here to see real customer reviews, specs and prices on Amazon <
Timex Weekender Chronograph Build Quality
If there was anywhere that you'd expect a sub $100 watch to compromise, it'd be in its build quality. Certainly the Weekender Chronograph makes a few small sacrifices here, but they wouldn't prevent me from recommending the watch.
Crystal, Case, and Dial
The mineral crystal on the Weekender is good enough and somewhat resistant to scratches.  During regular use it came out no worse for wear, though regular use for me consists of office and computing work.
I don't see it holding up well in more active or dangerous situations, and while Timex says it has 30m/98ft worth of water resistance, I don't think I'd take it for a swim either.
Strap and Clasp
The brown leather strap looks and feels good when worn. However, it is thin leather and begins to show wear almost immediately. I doubt it will last longer than a couple of years of regular wear.
The tan leather and chrome hardware make for an attractive pair. The nato-style strap is a nice choice and fits the aesthetic really well.
Do you know what would look better and last for nearly forever? This white and navy nato strap.
More About the Timex Weekender 40 Chronograph
Movement
The quartz chronograph movement Timex uses is called the W92. It's a fairly simple and robust movement that powers millions of watches sold all over the world.
It is not exclusive to the Weekender Chronograph. It also powers the Expedition Chronograph and many other Timex chronograph models.
Very little information can be found about it when searching online. I was only able to find the user manual and not much else.
Value for Money
The Weekender Chronograph has an MSRP of $75, though I don't think I've ever seen it for sale for more than $65 on Amazon.
Considering the nato leather strap, chronograph movement, and overall quality of build, it's not really fair to compare the Weekender Chronograph to the Casio's and Seiko 5's that dominate comparables at that price point. You will find things like the Invicta 90242-002, the Seiko 5 SNK809 (read our review),  and dozens of other options (the vast majority of which fall into "fashion watch" territory).
Considering the 2-4 year estimated battery life, 1 year warranty, awesome minimalist looks, and above-paygrade build quality, I feel that the Weekender Chronograph is absolutely good value for money. It doesn't try to pretend to be something it isn't, and instead just does a good job of being what it is.
Where to Buy
Timex Unisex TW2P623009J Weekender Forty Analog Display Analog Quartz Brown Watch
(448 customer reviews)
Summary
Reviewer
Review Date
Reviewed Item
Timex Weekender Chronograph
Author Rating





Timex Weekender Chronograph TW2P62300GP Review Conclusion
86%
My thoughts My time with the Weekender Chronograph (model: TW2P62300GP) has shown me yet another Weekender I really like. It offers great features and timeless styling at an affordable price. It looks far more expensive than it is, won't look out of place in most settings, and honestly is probably one of the best watches you can buy for under $100.
Movement Accuracy and Reliability